-- Vendor-Independent Anti-Virus Information and Education Site --


---

Protecting Microsoft Office 97 Documents
By Bill Grogg
UPDATE: All current anti-virus products should work just fine with Office 97 application file formats.
With Office 97, Microsoft changed the file formats for their applications. Because of this, anti-virus software may not be able to scan for macro viruses in these applications. Anti-virus software vendors are promising updates that will be able to read the new file formats, but in the meantime there is something you can do to protect your Office 97 documents.
Until your anti-virus software is updated to read the new file formats, set the applications to save in Office 95 formats as the default. This will enable you scanner to read documents created in the new version of Office.
The following example shows how to set the option for Office 95 file format in Microsoft Word:
From the View menu choose Options
In Options dialog, select the Save tab
From the Save Word files as drop-down list, select Word 6.0/95 (*.doc)
Click OK to save the change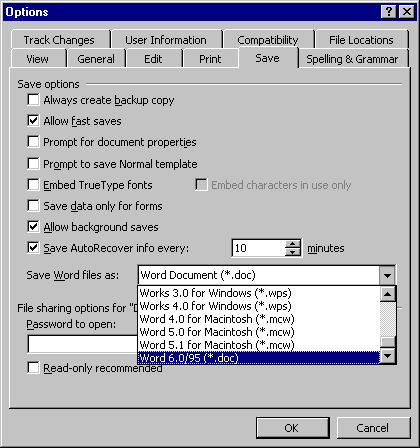 When you have obtained your anti-virus software update that has been enhanced to read the Office 97 file formats, remember to go back to the Save Options and set the format back at the Office 97 format (in the case of Word, Word Document (*.doc). Until then, with the Office 95 save format, your present macro virus protection should work fine with documents created in Office 97.
Return to the Timberwolf Anti-Virus Information Center table of contents
---
Customer Service | Web Picks


Copyright © 1997-2002, Bill Grogg
Timberwolf Software, "Software grown in the heart of the Silicon Forest", Shutters, and the Timberwolf Logo are trademarks of Timberwolf Software.
Send comments concerning this web site to: avicwebmaster@timberwolfsoftware.com.
Last updated at 1:55 PM on 20-Mar-2002.